Description
Intensive anti-cellulite draining treatment, pack of 3 treatments
DESCRIPTION
Did you know that you can counter swelling and heaviness in the legs simply by wearing PantaDren Salino Guam? The intensive draining panta-leggings based on Guam Seaweed and Sea Salts from the Dead Sea.
The feeling of swelling and heaviness in the legs , often accompanied by pain or cramps, is caused by fluid stagnation: it means that your lymphatic system is in trouble and is unable to effectively eliminate waste, which accumulates and clogs the microcirculation. And this is where PantaDren Salino Guam comes in .
The high concentration of Sea Salts (magnesium, potassium, calcium, bromine) in the liquid in which the PantaDren are soaked immediately triggers the chemical process of osmosis: the salt attracts stagnant liquids, forcing them to leave the tissues. It is the draining and purifying action, to which are added the anti-cellulite and anti-aging action of Guam Seaweed.
Thanks, then, to the support of Caffeine, Laminaria Digitata Extract and Ivy, PantaDren Salino helps you reduce blemishes and localized fat deposits.
All you have to do is wear the PantaDren directly on the skin and, over it, the protective trousers, essential for activating the "sauna effect" which maximizes the osmotic process. Easy and effective, it is the perfect couch treatment: you put on PantaDren Salino and relax, while Guam takes care of your legs.
HOW TO USE IT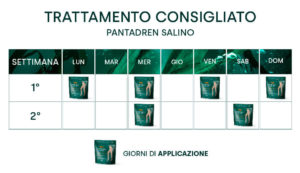 PANTADREN SALINO METHOD OF USE: 3) Remove the protective trousers and the Pantadren Salino and massage the parts that have been in contact with the Pantadren to make the skin absorb the active ingredients. After the treatment, wash the Pantadren Salino by hand with delicate soap, let it dry and place it in its open/close bag, closing it by pressing on the zip for later use. 4) Pour the refill liquid for the Pantadren Saline to carry out a new treatment.
LIQUID REFILL PANTADREN SALINE METHOD OF USE: 1) Open the refill by pulling the tab and place the liquid in the special bag containing the Pantadren Saline already used. 2) Close the bag with the zip allowing the Pantadren Salino to be completely impregnated.
1) Wear Pantadren Salino directly on the skin (the use of underwear is recommended), and to maximize effectiveness put on the protective sauna-effect trousers contained in the package, which also allow you to move freely.
2) Keep in pose for at least 35/40 minutes: there are no contraindications for longer times.
3) Proceed according to the directions for use of Pantadren Salino on the package.